- - KATIE KUPERMAN
"I write books that seek to raise your awareness, make you feel something, look deep within yourself and create positive change all around you."
My name is Katie Kuperman and I am the author of The Only Way Out and Many Ways Up. I'm also a copywriter, entrepreneur, wife and mother of two. My life has been rich with many experiences including competitive sport, travel, academics, entrepreneurship, writing and reaching for my dreams. I'm a woman who gives it her all, works hard and experiences the world wholeheartedly. Quality family time is something I treasure tremendously, as well as forest walks, meaningful conversation and strong espresso.  
WHY I WROTE MY FIRST BOOK: THE ONLY WAY OUT
For as long as I can remember, I've been an anti-bullying advocate. I believe we ought to lift each other up, not put each other down.
When I came across Amanda Todd's heartbreaking story, tears streamed and emotions ran high. It was at this very moment that I knew I would write a book about bullying. As I wrote, my story deepened in subject matter to also include mental health struggles, facing fear and overcoming unfathomable hardships.
During the publishing process of The Only Way Out, a thought came to me. What if I could dedicate my book to the very girl whose story moved me to put pen to paper? 
I am honoured to say this is precisely what I did.
After finding Amanda's mother, Carol Todd, I explained who I was, what I wrote and what I wanted to do. She granted me permission and now my project has even greater meaning and purpose behind it.  
By taking people through a touching and inspiring story, it is my vision and my hope that I may have a positive impact on the understandings, perceptions and actions of those who read it.
WHY I WROTE MY SECOND BOOK: MANY WAYS UP
After launching and promoting The Only Way Out, I received tremendous interest from teachers and educators. I couldn't help but think that if my fiction novel had the potential to be a teaching tool for students, how much more impactful could it be with a companion workbook? 
Many Ways Up takes the emotions, increased awareness and key messaging from my novel and sets these elements into real-life action. I invite my readers to talk and share. To open their doors to fresh perspectives, new ideas and different possible solutions or steps forward. To gain insight into themselves and their lives. To learn and create positive change around them.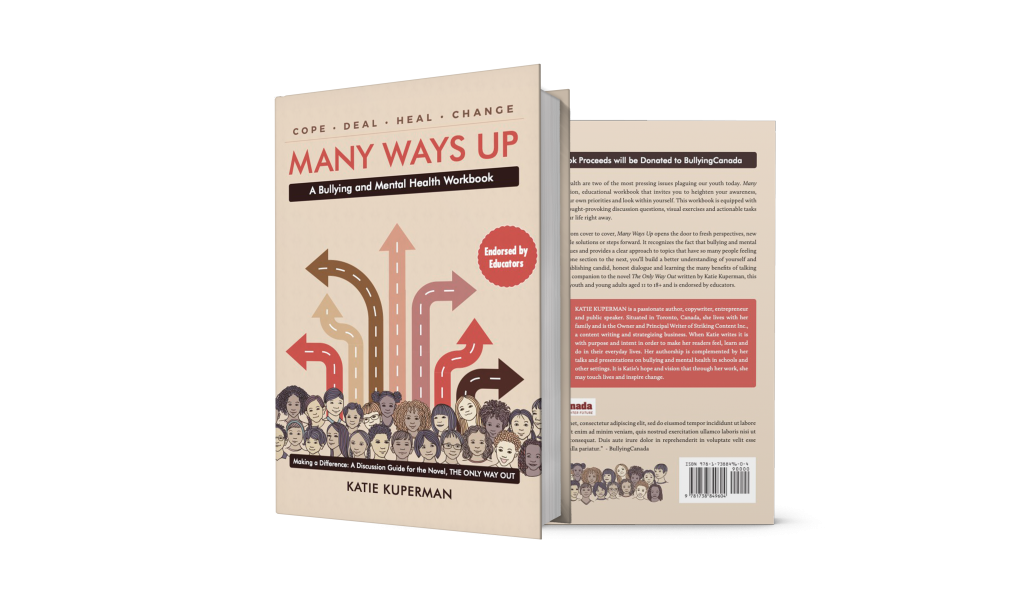 Both of my books are for youth and young adults aged 11 to 18+. They are also for parents, teachers, and anti-bullying and mental health advocates.
MORE THAN BOOKS...
I want to make a difference.
As I travel along this exciting journey, my books have become much more than just pieces of paper sandwiched between covers and back covers. My work has become a brand and a campaign that rallies for anti-bullying, mental health, living a positive life, and always talking about what we're going through in order to initiate progress in the right direction.
Thank you.
Whoever you are, I'd like to thank you from the bottom of my heart for visiting this site and showing your support.
Have feedback?
Have a special request?
Have a unique idea of how I can get my story out into the world?
Please get in touch.
Get newsletters and updates through my mailing list.
Join the community